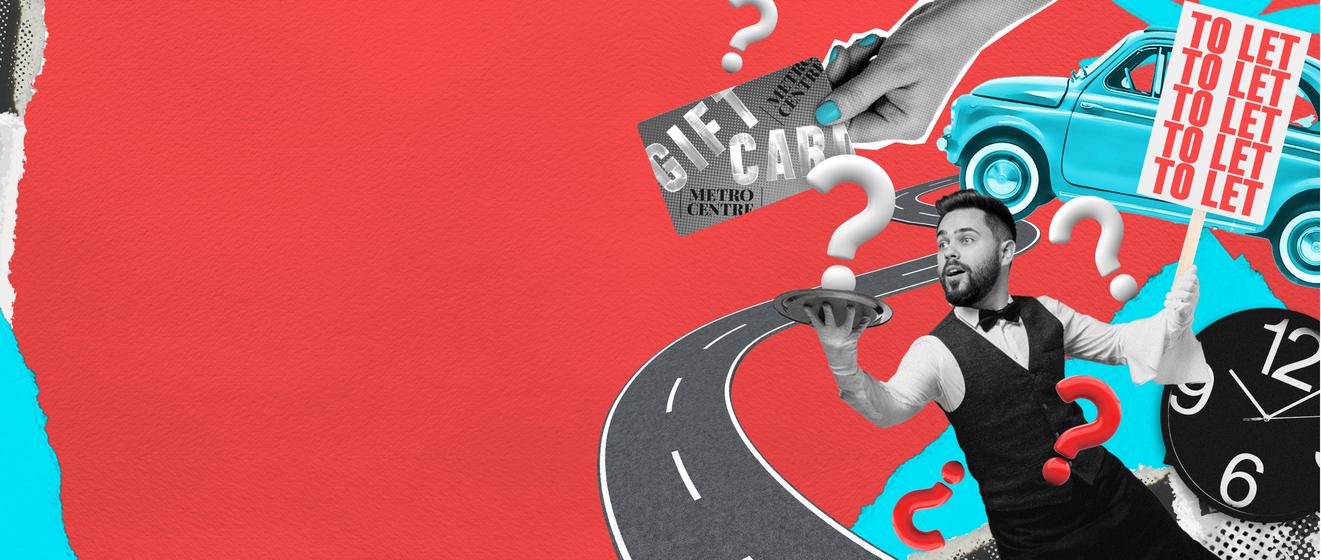 METROCENTRE GIFT CARD
Give them the gift of everything
Metrocentre's new gift cards have arrived!
Our Metrocentre gift card makes a great present for anyone who loves visiting our centre for shopping, dining and leisure!
Where can I buy a Metrocentre gift card when in-centre?
To buy a Metrocentre gift card, simply visit our Customer Services Desk in either Lower Green Mall near Marks & Spencer or Upper Platinum Mall near Waterstone's, and purchase your gift card up to any value. Our new gift card system accepts card payments only. The gift card is valid for 12 months from date of purchase.

Where can I buy a Metrocentre gift card online?
You can purchase a Metrocentre gift card online to click + collect or for it to be delivered to you by post. To do this, please click here and follow the instructions.
Which stores accept the new Metrocentre gift card?
The majority of our stores will accept our Metrocentre gift cards. However, please ask the retailer if they accept the card before purchasing.
The following stores do not currently accept the Metrocentre gift card:
3 Stores, Beckleberry's, Bensons For Bed, Brooklyn Barbers Co, Choices Newsagents, Cookery Nook, Eurochange, EE, Furniture Village, Kuoni, Mensroom, New Gold Stitch, Oak Furniture, Post Office & Topics Newsagents, Regis Salon, Shakeaholic, Sofology, Supercut, Castore X Newcastle United, Turkish Barbers and Wetherspoons.
How can I check my balance?
You've purchased a Metrocentre gift card and now want to know where to check the balance? No problem! It's easy to do. The quickest way to check the balance is to call our automated balance enquiry service on 028 4378 0220 and selecting option 1.
Alternatively, customers can also check the available balance by logging onto www.emlretail.com/balance.

Where do I go to for support on the new Metrocentre gift cards?
If you have any questions or you experience difficulties processing a Gift Card please contact the EML Customer Services team on 028 4378 0220 or email: cardsupport@emlpayments.com. EML are the company who run the gift card scheme on behalf of Metrocentre.
What about the old intu gift cards?
As of 26/10/20, the centre is no longer part of intu and is now managed by Savills.
However, if you have an old intu Metrocentre gift card, this is valid for a year from purchase. Your existing intu Gift Cards can still be spent in participating stores at Metrocentre until the expiry date on your card is reached. Check your intu gift card balance here, or if you need to activate your gift card, you can do so by clicking here.
intu Gift Cards are issued by EML Payments Europe Limited (EML) who are the parent company of Flex-e-Card Limited, the UK-based provider of gift card services to intu – you will see Flex-e-Card's name on the reverse of intu gift cards.
All funds associated with these cards are held in a designated client account under the control of EML only. EML settles with Mastercard on a daily basis for all transactions that occur on these gift cards.
This process is entirely independent of intu and will continue to happen regardless of ownership or control of intu. EML's obligation is to its cardholders as per the terms and conditions of its cards, and to Mastercard as per its membership agreement.
As a result, there is no risk to any retail or leisure occupier of any intu centre to continue to accept intu Gift Cards, as all funds are entirely separate from those held by the intu business.

Please find below the details for Flex-e-Card should you have any further queries.
Telephone: 0844 7744277
Email: customer.service@flex-e-card.com